Baha'i World Publication: New Article Highlights Racial Justice Efforts in the United States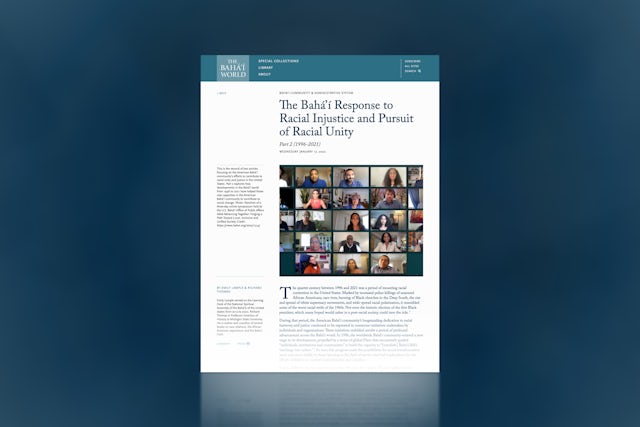 BAHÁ'I WORLD CENTER — The latest article published on The Baha'i World examines the efforts of the American Baha'i community to counter the effects of racism.
"The Baha'i Response to Racial Injustice and the Pursuit of Racial Unity: Part 2is the second of two articles on race in America. Together, parts 1 and 2 investigates more than a century of Baha'i efforts in the United States to counter racial injustice and work for racial unity amid racial conflict and tension in the country.
Part Two examines the period between 1996 and 2021 in which the global Bahá'í community embarked on a journey of greater systematization in its efforts to serve humanity, guided by the Universal House of Justice.
During this 25-year period, in areas "where development had gone furthest", the authors explain, "the American Bahá'í community could see new patterns of community life emerging and glimpses of transformation at the base. These lessons offered hope for real progress in the pursuit of racial unity in the community at the local and national levels.
The Baha'i World presents a collection of essays and articles that explore themes relevant to the progress and welfare of humanity, highlight the progress of the worldwide Bahá'í community at the levels of thought and action , and reflect on the dynamic history of the Bahá'ís í Faith.