Cayden Wallace named best player of the week by publication
FAYETTEVILLE, Ark. –Cayden Wallace, named SEC co-player of the week earlier Monday, was also recognized as National Player of the Week by the Collegiate Baseball Newspaper.
The Arkansas third baseman propelled the Razorbacks to a four-game UIC sweep over the weekend and was yet to share league honor.
He hit .333-.350-.833 with three home runs and a team-leading 13 RBI.
He had one hit in all four games of the series, including three hits in Thursday's doubles opener, and had multiple runs in three of four games, including a career-high six in the final. Sunday.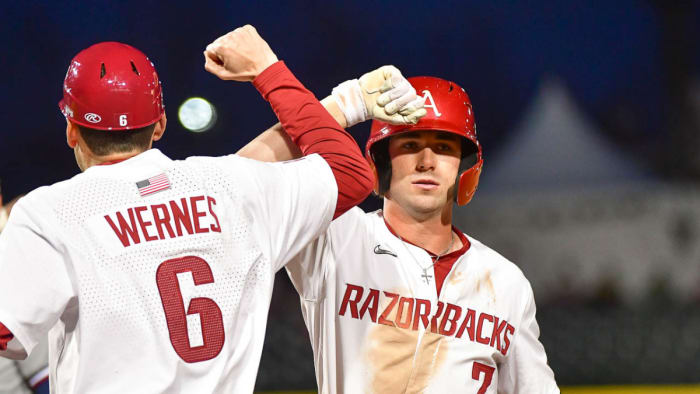 Wallace hit a three-run homer in the opening game of the doubleheader before winning Grand Slams on consecutive days.
He hit a grand slam in Saturday's 10-1 win to help Arkansas clinch the series before his grand slam in Sunday's 10-8 win put the finishing touches on the Hogs' sweep over the Flames .
Wallace, who led all SEC batters last week with 13 RBIs, had a career-high six runs in Sunday's final.
No. 3 Arkansas is back in action Tuesday night, hosting Grambling for a two-game midweek series at Baum-Walker Stadium. The first pitch of tomorrow's game is at 6:30 p.m. on SEC Network+.
Information from Arkansas Communications is included in this story.
---
• Want to participate in the discussion? Click here to become a member of the allHOGS bulletin board community today!
• Follow all the HOGS on Twitter and Facebook.